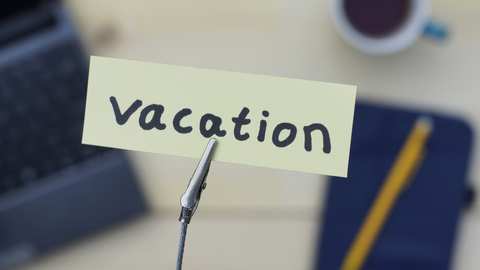 In the next several weeks and months, employees will be taking time off from work for summer vacations.
Now is a good time to determine what your company's needs will be this summer.
Also, given the tight job market, it's a good time to assess your vacation policy.
How many employees take summer vacations?
According to a survey by Bankrate.com, only 38% of employees with paid vacation days plan to use them all this summer. Other findings:
59% plan to use more than half
5% plan to use less than 25% of their days
6% won't use any time
Have you planned for a reduced work staff?
Determine what will need to be done during the time when you/employees are off. Do what's possible in advance. For me, this always means working double time for weeks in advance to satisfy the work deadlines that fall during my vacation. If possible, discuss with customers and clients about scheduling work after your/your employees' vacations.
Employees in your company may or may not fall within the survey's findings mentioned earlier. Make sure you're covered for any problems that need to be addressed while you are away. This can be done by giving an employee added responsibilities.
Also, see that employees can cover for each other when needed. If necessary, hire temporary workers to fill in gaps in your staffing. With temporary workers, you pay the agency a fee for their services; they remain the employees of the agency. Summer interns may be helpful too.
What's your vacation policy?
How many vacation days do you offer? Federal law does not mandate that you give any paid time off, but you'd be hard-pressed to hire and retain good workers without a paid vacation policy. According to the BLS, 73% of all workers in the private sector have paid vacations. The number of annual paid vacation days workers receive varies with length of service.
After one year of service, workers are most likely to have 10 to 14 days of paid vacation (38%).
After 10 years of service, workers are most likely to have 15 to 19 days of paid vacation (39%).
Those with at least 20 years of service are most likely to have either 20 to 24 days of paid vacation (32%) or more than 24 days of paid vacation (29%).
Vacation policies at small companies may differ from those at large corporations. According to Zenefits,  paid time off (PTO), which includes not only vacation days, but also sick and personal days, was lower at companies with 1-99 employees. For example, after one year, the average number of PTOs at small firms was 9, compared with 12 at larger companies.
State laws
As yet, there are no states that require employers to offer paid (or even unpaid) vacation days. But if you offer paid vacation days, there are certain rules governing how they accumulate, whether there can be a use-it-or-lose-it policy, and whether unused days must be paid when employment terminates. For example, in California, earned vacation time is considered wages and vacation time is earned or vests as labor is performed (e.g., 10 vacation days a year would mean 5 have been earned after 6 months).
Here's a chart listing vacation pay state laws, but I'm not sure how current the information is (the site says "maintained"), so check in your state.