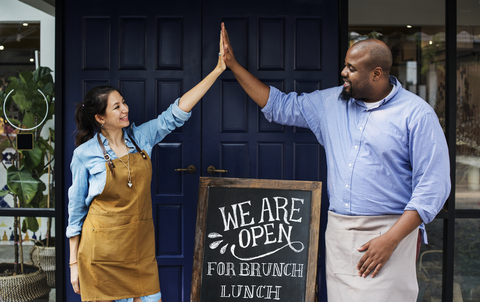 TSheets by QuickBooks surveyed small business owners for National Small Business Week and found that they (and their families) make personal sacrifices in order to run their businesses. I've been a small business owner for more years than I care to share and I can relate to the survey results. In honor of National Small Business Week (April 29 through May 5), I'm listing some of the survey results here.
Small business owners are early risers
According to the survey, 33% rise daily at 6 a.m. and another 23.6% get up at 7 a.m.; 17.2% are up by 5 a.m. This means that nearly three quarters of all business owners wake up by 7 a.m. each day.
Small business owners work long hours
More than a third (35%) work 40 hours a week, but 31% work 50 hours and 11.8% work 60 hours each week. Some work 70 or 80 hours a week. So more than 85% work 40 hours a week or more. Only a total of about 14% worked 30 hours or less.
And this includes weekends, with 17.7% working every weekend, and 24.1% working at least every other weekend. Only 8.9% of small business owners said they never work on weekends.
And it means forgoing vacations, or not taking as many as desirable. Only 14.8% take vacations more than twice each year; 27.6% are able to get away once a year. But 8.4% take a vacation less than once every 3 years, and another 8.4% never take a vacation.
Small business owners miss family or social occasions to work
Working long hours constantly means missing birthday celebrations, weddings, and other events. In fact, 37.9% said they missed family or social occasions a few times each year; only 24.6% said they never missed these events.
Small business owners aren't getting rich
More than half (52.2%) say they could earn more working elsewhere and 22.7% have a second job to supplement their business income. They put their capital at risk, with 42.9% investing their own money in the business.
Bottom line
More than half (53.2%) of small business owners say they are uncertain about the future. Yet the survey didn't ask whether they would change what they're doing. Most small business owners I speak to say they love having their own companies and wouldn't go back to being someone else's employee.  They love being independent.
As Steve Jobs said, "Your work is going to fill a large part of your life, and the only way to be truly satisfied is to do what you believe is great work. And the only way to do great work is to love what you do."
During this National Small Business Week I wish all small business owners -- doing what they love to do -- much good fortune.
****
We're Celebrating National Small Business Week by offering the Newly-Expanded 175+ Big Ideas for Your Small Business, 2018 Edition when you subscribe to our mailing list!