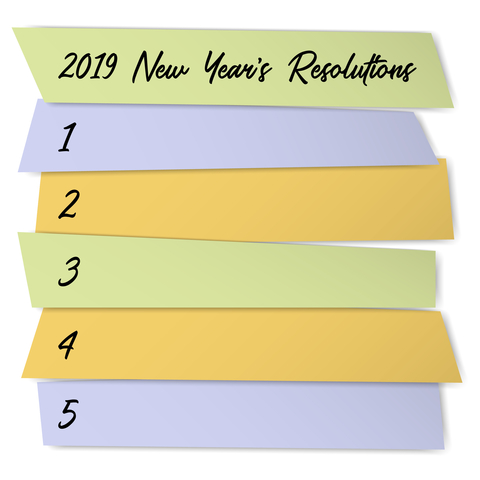 According to History.com, the concept of New Year's resolutions dates back about 4,000 years to the Babylonians who recorded their resolutions during a religious festival that started their new year (which happened to fall in March). These resolutions took the form of promises to their gods.
Making personal New Year's resolutions to save money, lose weight, quit smoking, read more, or something else is common practice today. Business owners may want to make their own New Year's resolutions.
Last year I shared New Year's resolutions for businesses and business owners from various sources. I thought it would be great to see what the experts have to say about resolutions for 2019. The resolutions are listed here, but to learn more, go to the source.
Salesforce posted the following resolutions:
Focus on inclusive leadership
Share knowledge
Adopt a nonprofit
Take time for professional development
Create a healthier work environment
Optimize the customer experience
Improve resource planning
Build a community
Outbound Engine posted the following resolutions for business owners:
Find a buddy
Communicate better
Extend a hand
Think ahead
Prioritize balance
Forbes posted the following resolutions for entrepreneurs, which were gathered from business people across the country:
Hiring women
User friendliness
Practicing the pitch
Delegating
Seeing the big picture
Cultivating culture
Entrepreneur posted resolutions for your company:
Commit to diversity
Give back
Be more flexible
Provide experiences, not just benefits, for employees
Listen…then act
Final thought
While only 9.2% of New Year's resolutions succeed, they are still worth making. Business owners in general are goal-oriented, and without goals, it's difficult to achieve great things. And aren't goals just resolutions?
As Henry Wadsworth Longfellow said: "resolve, and thou art free."