Pivoting is defined as turning or twisting. In a business context, it means changing direction. And that's just what businesses have done or are doing now as a result of COVID-19 pandemic in order to survive, and even thrive.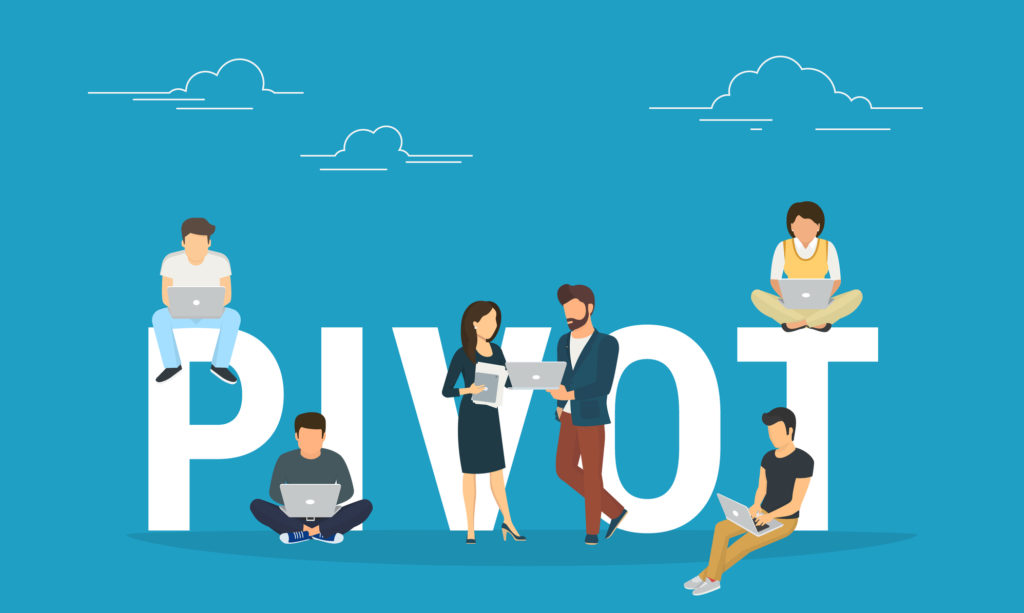 Businesses are pivoting
According to a survey from PostcardMania, 58% of small business owners have pivoted as a result of COVID-19. Some of the examples of pivoting included offering online classes and hosting Zoom meetings, offering "try before you buy" options, changing hours of operation, offering delivery services and curbside pickup, and ceasing email marketing in favor of offering tips.
Harvard Business Review also reported how some businesses have successfully pivoted during the pandemic. The article noted that it's easier for digital platforms to pivot, but it can also be done by bricks-and-mortar businesses, such as restaurants. These businesses have had to introduce or expand take-out, delivery, and catering to fill the void created by entry tables (mandated by stay-at-home orders or restrictions on the percentage of space that can be used).
Ideas for pivoting
It's time now to review your business model and make modifications that align with the current environment, which many experts predict will continue for quite some time. Here are some ideas that may be useful for your situation:
Create or expand an online presence. The pandemic has been driving customers online.

According to eMarketer

U.S. e-commerce is expected to be up 18% in 2020. Customers need to contact and buy from you through their mobile devices. Facilitate ordering, payment, and other features to improve the customer experience at this time.
Expand your product offering. If you sell goods, you might want to add COVID-19-related items that customers want (e.g., cleaners) or items that are suited for those working/staying at home. Just look at the spectacular success of Mirror (an exercise machine for workouts at home), which launched in 2018 and had booming sales during the pandemic; it's now being purchased for $500 million by Lululemon. Skims, a line of body shaping undergarments from Kim Kardashian West, added face masks to its product line.
Adapt your marketing. Make changes in how you reach out to customers and what your message should be. Some of the buzzwords being used in ads today include care, safety, personalization, and community.
Feature safety measures. Customers may be fearful of dealing with businesses unless they are assured they are as safe as possible. This means changing the layout of your facilities, adding signage to explain safety measures, putting in hand sanitizer machines at entryways and checkout counters, installing plexiglass barriers. High-tech and low-tech items are discussed in a previous blog.
Change business hours. Extend them; constrict them. Make changes in response to customer needs.
Add exporting. If you have a product to sell and haven't yet considered exporting, now is a great time to do so. Even if you stay in the northern hemisphere, the USMCA (the trade agreement replacing NAFTA) may be helpful to you. Check exporting assistance through

the SBA

.
Change your supply chain. Unfortunately, some businesses—possibly one or more of your suppliers—have gone under or will do so soon. To ensure your inventory needs are met, look for new vendors, shippers, warehousing, and other parts of your supply chain.
Before you pivot, consider…
What you can afford. Be sure your budget aligns with your pivot ideas.
Your brand. Eric Ries, entrepreneur, blogger, and the author of The Lean Startup, said "a pivot is a change in strategy without a change in vision." Presumably, your brand reflects your vision, so keep things in line.
The future. Before making substantial investments that may be restricted to the COVID-19 era, think ahead. No one knows when the pandemic will end and what things will look like at that time.
Final thought
One of the best things about being a small business is the ability to make change happen quickly. Decisions don't have to go through committees and long approval processes. As a business owner, it's up to you do decide what to do and how to implement it. Good luck and be safe.