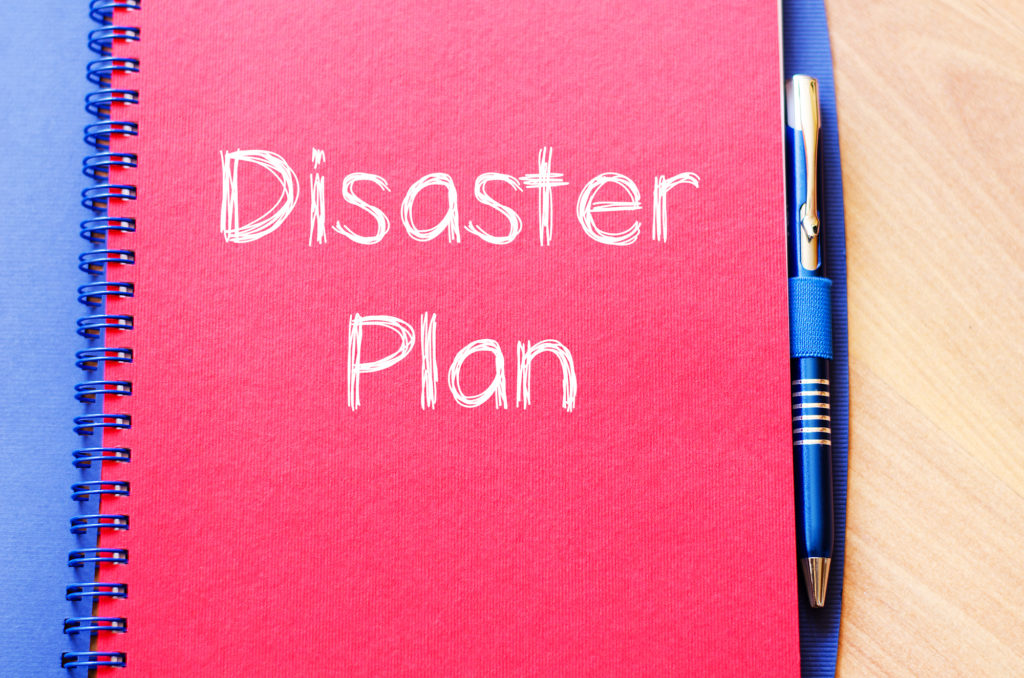 Disasters can happen at any time. They can be natural disasters, such as storms, earthquakes, and mudslides. Or they can result from human activity, such as arson and riots. Certain periods see more frequent natural disasters. The Eastern Pacific hurricane season runs from May 15 through November 30, the Atlantic hurricane season as well as that for the Central Pacific (including Hawaii) runs from June 1 through November 30. May is also National Wildfire Awareness Month. Because of the potential for experiencing a natural disaster, all business owners should, as former Prime Minister Benjamin Disraeli said, "prepare for the worst but hope for the best."
Ideas to help you prepare your business:
1. Make a disaster preparedness plan
The plan should address steps to take before, during, and after a catastrophic event. You can't plan for every contingency, but you can plan for some contingencies likely to occur if there's a disaster. Review the basics included in a disaster recovery plan template, which you can download for free and customize to your needs. Some of the ideas to include in your plan are discussed below.
2. Check your insurance coverage
Will your current policy provide the protection you think you have? Talk with your insurance agent now. The current coverage may need to be increased or expanded. You may need additional coverage, such as flood insurance or a business disruption/continuation policy. Find information about insurance coverage from the Insurance Information Institute.
3. Get the materials you need for last-minute disaster preparation
A disaster is coming, so how do you prep for it? Items to consider: plywood to board up store windows, backup generators, batteries, water. A couple of states have sales tax holidays to obtain certain items tax free. For example, Florida's annual disaster preparedness sales tax holiday runs this year from May 28 through June 10 and covers generators costing $1,000 or less, batteries costing $50 or less, tarps costing $100 or less, and many other exempt items. Texas' severe weather sales tax holiday ran from April 23 through 25.
4. Protect your data and equipment
Using good business practices, you're probably backing up your data on a regular basis (more than 90% of businesses now backup to the cloud). But you may need to take additional steps for optimum protection in case of a disaster. The IRS suggests businesses take a number of actions, including:
Securing key documents and making copies or, even better, backup scanned copies to the cloud. Protect corporate minutes, insurance policies, and key documents in a secure place. I use ziplock bags to protect certain paper documents.
Documenting valuables and equipment. Photos and videos of the contents of your business facilities will help if you need to submit an insurance claim. One business owner kept shrink wrap material on hand to secure his equipment from water damage during hurricanes.
5. Get supply chain backup
Supply chain issues in general are challenging now. They could become even more problematic in a disaster. Even if you aren't directly affected, your supplier may be impacted. Be sure to develop relationships with multiple suppliers, not only for improving day-to-day operations, but also to continue running smoothly in case of a disaster.
6. Review and update your contact list
Be sure to have your contact list updated to reflect everyone you'd need to talk to in case of a disaster. In addition to family and friends, be sure to have in your contact list:
Your employees or the employee(s) designated to reach out to your entire staff. Calling or texting may be a quick way to reach everyone to provide instructions for their action and to check on their safety.
Your insurance agent. Also have the insurance company's contact information in case your agent has suffered the same disaster as you. Keep your policy number with your contact information.
FEMA. This federal agency provides guidance in obtaining disaster assistance. Contact information:

[email protected]

(for general questions about assistance) or 800-621-3362.
SBA. This federal arm provides direct loans following disaster declarations for your area to help cover the cost of repairs or replacement of physical assets damaged in the event and/or funding to cover operating costs after the disaster. Contact information:

[email protected]

or 800-659-2955.
Trades and repair people. Keep telephone numbers of roofers, electricians, plumbers, etc. who might be needed following a disaster.
Other help. Likely you already have certain pros who help you with your business activities (accountant, IT specialist). Just check to ensure you have up-to-date contact information.
Final thought
Because preparedness should be a year-round endeavor, the ideas for readying your business for a potential catastrophic event aren't new. Nonetheless, it's worth reviewing because so many small business owners simply don't prepare. Insureon found that 61% of small businesses lacked a disaster recovery plan and it's often been stated (although there is no source for this that I could find) that 40% of businesses never re-open following a disaster. Don't become a statistic. Make plans and take action now…before disaster strikes.