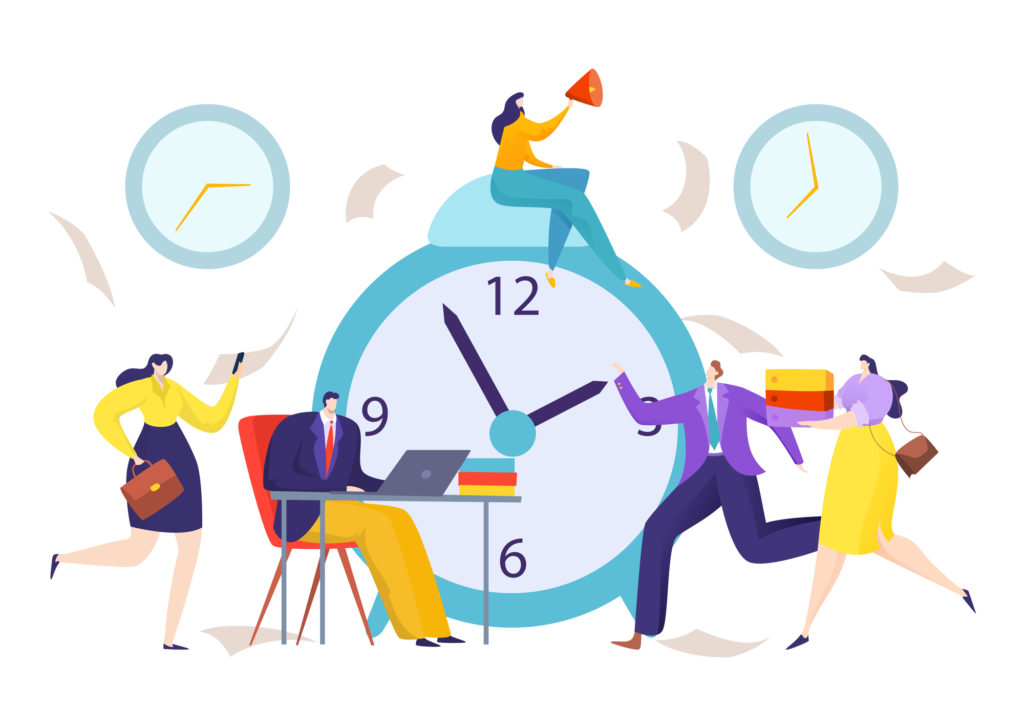 The time clock, which has enabled employers to verify the time employees start and leave the job, was invented in 1888 by Willard Bundy, a jeweler who used the mechanical timepiece to track employee hours in order to figure their pay. There's a famous picture of 74-year old Thomas Edison clocking in at his lab in Menlo Park, NJ (he used it to track the hours spent on projects and not to monitor workers' hours for purposes of wages).
Today, time clocks are still in use in many enterprises and are readily available for purchase at Staples and other office supply companies. But times have changed. There's new technology and new work arrangements. Here are some ideas about monitoring employee work hours beyond the old time clock.
Why tracking time is essential
While the idea of the old time clock may be passe, the need to accurately track work hours remains critical. Here are some examples of reasons to monitor work time:
Employees may earn personal leave time—paid time off for sick, vacation, and personal days—based on the number of hours worked.
The Fair Labor Standards Act (FSLA) requires employers to pay overtime to non-exempt employees who work more than 40 hours a week.
Professionals who bill their clients based on the time spent at client matters need to have accurate records of their work hours for billing purposes ("billable hours").
Employers with 401(k) plans need to track hours to be sure they are meeting participation requirements. Part-timers (those with at least 500 hours per year for 3 years) become eligible to participate starting 2024, so hours for 2021, 2022, and 2023 determine this; these hours should be tracked.
Owners of rental property who want to deduct losses (expenses in excess of income) need to prove they are "real estate professionals." This requires substantiating participation for at least 750 hours a year and showing more than half the time of their personal services is spent on real estate activities. The Tax Court has made it abundantly clear that "ballpark guestimates" won't fly.
Employer liability issues may be tied to workers being on the clock. For example, workers compensation claims are limited to employees injured in the course of working.
Issues for remote workers
As a result of the pandemic, with so many employees working from home, employers are challenged to monitor work hours. What's more, many businesses traditionally have workers in the field.
Fortunately, there are many employee monitoring software options useful with a remote workforce and they are affordable by small businesses. Examples of monitoring options (not evaluated by us) include:
Time Doctor, which can track time, tasks, and even websites that employees visit during work hours.
Toggl, which uses keyboard tracking to monitor employee activities.
Timeneye, which can track productivity on projects.
Some small businesses, such as construction companies and trucking/delivery companies, have employees in the field who do not use computers. Businesses may also have salespeople who spend all of their time visiting customers and prospects. They can use other monitoring options that work with mobile devices. Examples include:
Hubstaff, which includes GPS monitoring.
ClockShark, which is designed for the construction industry.
MobiWork, which, in addition to time tracking for workers in the field, offers logistics solutions.
ConnectTeam lists the 15 best time tracking apps for small businesses for 2021.
Bottom line: Find a time tracking solution best suited for your business needs and your budget.
Use of biometrics
Technology has created new means of clocking in without using punch cards. Biometrics—using face or fingerprint recognition—is the new time clock standard for onsite workers. The cost for this technology is no greater than for old systems.
A big concern for employers is the growing number of states regulating the collection of biometric data. Privacy laws encompassing biometric data collection for employees and customers have already been enacted in Illinois, Maryland, New York, Texas, and Washington. [New York City (effective July 9, 2021) also has an ordinance requiring businesses to post conspicuous notices to customers at their entrances if they "collect, share, or maintain biometric identifying information." At present, this ordinance does not cover data collection from employees.] The state laws require employers to safeguard this data and prohibit them from profiting from the data collection (e.g., selling information). Violation of the law can expose a company to litigation (e.g., a pending class action lawsuit in Illinois against Dollar Tree).
Bottom line: Whether or not you are subject to a biometric data collection law, it's highly advisable that your policies safeguard employee information.
Final thought
Shakespeare said: "Time and the hour run through the roughest day."
It's up to business owners to keep track of this.