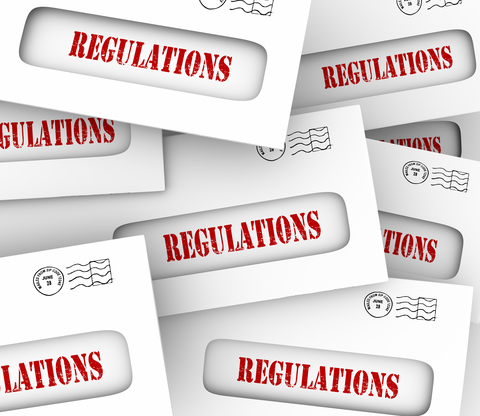 This isn't a new question. Ask any business owner and he or she has a tale of woe when it comes to government regulations.
A few weeks ago a local fisherman I know was told that he could not fish for red snapper off the coast of Florida in 2016. This news came after he had paid thousands of dollars in license fees to fish commercially for red snapper.
Another local entrepreneur was so hung up by the building department that she exhausted her startup money and never opened her doors.
Have you experienced similar government intrusion into your business activities in the name of regulation?
NFIB cites regulations as an impediment
The NFIB tracks small business sentiment each month in its Index of Small Business Optimism. The latest numbers showed a decrease in the number of small businesses that expected the economy to improve. Overregulation is often cited as a key reason for this pessimism.
State by state
According to the Federal Regulation and State Enterprise (FRASE) Index that measures the impact of federal regulations on a state's economy, the result depends on the type of industry within the state. So while federal regulations are applied in all jurisdictions, the impact can vary from state to state. For example, the 400 new regulations under Dodd-Frank targeting the financial sector have a greater impact in New York, the country's financial capital, than in other locations. You can click on a map to see the impact of federal regulations in your state.
What to do?
There's no simple answer. You can outsource some compliance and simplify your life. For example, professional employer organizations as well as many payroll providers help businesses comply with employment laws, such as taxes and labor laws. Needless to say, businesses that use these services will pay, but the cost is lower than penalties and other problems that can result from noncompliance.
Advocacy for change in the regulatory climate at the government level is something that small business owners can't ignore. Supporting the efforts of advocacy groups, such as the Small Business & Entrepreneurship Council's Center for Regulatory Solutions, is an action you can take. And there's a need to back candidates who recognize the regulatory nightmare for small businesses and promise to do something about it.
Conclusion
Government regulations usually aren't arbitrary; they start out trying to fix or prevent some real and often serious problem. However, they often wind up being burdensome to those trying their best to comply. We have to ask ourselves: what's the benefit compared to the burden of these regulations? Are there easier, more commonsense options to achieve protection and prevent problems for the public than making small business owners jump through hoops?