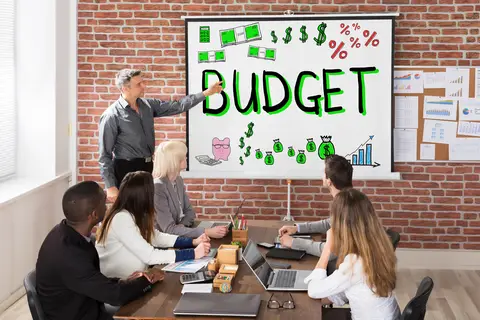 Now that we're in the fourth quarter of 2018, it's time to nail down your budget for the coming year. Be sure to consider the following projections:
Payroll
Are you planning to give raises? The average pay increase for 2019 is projected to be 3.1% for non-management employees. As the owner, are you giving yourself a pay increase? Be sure to consider the impact on a greater payroll in 2019 on the amount of the qualified business income (QBI) deduction you can take on your 2019 personal tax return.
The percentage for Social Security and Medicare taxes (FICA) remains unchanged for 2019. But payroll taxes will increase due to pay raises, as well as an increase in the Social Security wage base to $132,900 (up from $128,400 in 2018) for companies with employees earning up to or more than this new amount.
If you provide health insurance for your staff, expect to see premium increases of 5% or more. The 5% increase is related to large employers; there are no stats for small businesses.
And workers compensation premiums may change. The good news is that employers in some states, such as New Hampshire, New York, and Washington, could see premiums drop by as much as 5%.
Borrowing
If you have a line of credit or anticipate the need to borrow money in the coming year, don't overlook the continued increase in interest rates and build it into your budget. The Federal Reserve raised rates in September 2018 to 2.25%, with one more hike expected before year end. But there are three projected rate increases for 2019; the fed funds rate could reach 3% or more next year. This would mean higher interest costs to borrowing money.
Energy costs
Whether it's your utility bill or what you pay at the pump to gas up your cars and trucks, expect energy costs to be a little higher next year. The government is projecting that the price per gallon of gasoline could average $2.82, versus about $2.76 this year. Keep in mind that states may increase their taxes on gasoline (e.g., Nebraska and Utah have a scheduled increase in 2019 and Missouri is voting on one in the November election).
Travel costs
Traveling on business is likely going to cost more in 2019.  Hotel costs are projected to rise by 3.7% and airfare by 2.6%.
Professional fees
As a result of all the changes made by Tax Cuts and Jobs Act, expect to pay more for accounting services in 2019. And with inflation, rising salaries, and other factors, legal fees likely will also increase. How much will professional fees increase? Who knows.
Bottom line
Projections are only guestimates, but you need to factor in cost increases for your 2019 budget. Getting a head start on this can help you with deciding on your pricing, whether to give year-end bonuses, and other changes you plan to make before year end or in the coming year.