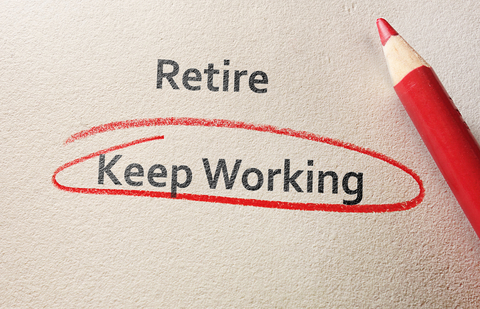 People in the U.S. are working longer. According to the Bureau of Labor Statistics, the 65- to 74-year-old and 75-and-older age groups are projected to have faster rates of labor force growth annually than any other age groups. These groups include employees who want to work full- or part-time past their normal retirement age and owners who want to continue running their businesses.
What does working longer mean for you?
Workforce options
According to the Employee Benefits Research Institute's 28th Annual Retirement Confidence Survey, nearly 9 in 10 workers who anticipate working for pay in retirement say this will be a source of income for them (87%), although just 30% expect it to be a major source of income. And many older employees continue to work because they enjoy it.
The fact that employees work longer is beneficial to them and to businesses.
For employees, it means continued income. It may also mean living longer. According to one study, working just one year more resulted in an 11% lower risk of mortality for otherwise healthy individuals, regardless of sociodemographic factors (income, education, etc.).
For companies, it means an expanded pool of workers. These older workers are experienced, loyal, and can mentor younger employees.
What to do. Consider recruiting older workers who can do the jobs you need to fill. And talk to those already in your company nearing retirement age to determine what they plan to do and whether they may stay on. You may need to offer flex time or part-time schedules to attract/retain these workers. Also understand what it means for your health coverage if you offer this benefit in your company (it depends on whether a company with a group plan has 20 or more employees).
Owner retirement options
Owners who want to continue working past retirement age because they love what they do, can use the added time to accomplish certain goals:
Jack up retirement savings. For many owners, the bulk of their net wealth is in their business; they lack retirement savings in a qualified retirement plan or personal investment portfolio. Owners who continue to work for their business can maximize their retirement savings in a qualified retirement plan (if their companies don't yet have a plan in place they can set up a plan, and even take a tax credit for administrative costs and employee education) and in an after-tax investment account.
Create a succession plan. It's been reported that 72% of small businesses don't have a succession plan. Owners who've put their hearts and wallets into their companies should take steps to see that it survives. They may want to think about selling their business, grooming children to take over, or transferring ownership to employees.
Final thought
As Henry Wadsworth Longfellow said: "For age is opportunity no less than youth itself, though in another dress, and as the evening twilight fades away, the sky is filled with stars, invisible by day."