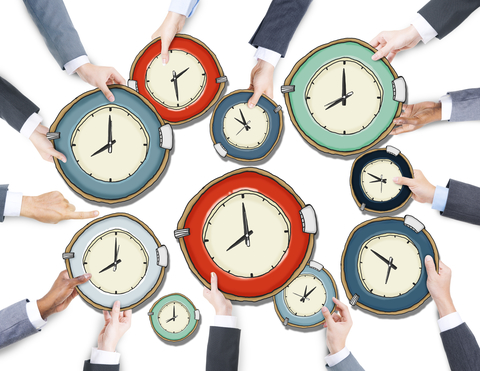 Predictive scheduling laws, also referred to as fair workweek legislation or secure scheduling, require employers to give advance notice to employees of their shifts. These laws essentially bar "on call" scheduling by requiring additional pay to workers who receive short notice.  From the employer perspective, it means having to pay extra or go without help during unexpected periods, such as before or after a storm or other unexpected event. NFIB called predictive scheduling the "small business fight of 2017."
What is predictive scheduling and how will it affect your business?
What the law requires
The rules vary by location, but essentially the law requires employers to give certain notice (e.g., a written schedule 2 weeks in advance) to employees of their work schedules and provide a period of rest between shifts (e.g., 10 hours off). If employers fail to provide this notice and rest or if a shift is canceled within a set time (e.g., 24 hours of the shift's start), they must pay employees additional wages (e.g., 2 to 4 hours of additional pay).
The same notice and additional pay rules typically apply to both full-time and part-time workers. The law does not bar employees from trading shifts or making other voluntary changes.
Some locations also provide job security when companies are acquired or merge. Employees cannot be laid off for a minimum period (e.g., 90 days).
Which businesses are impacted?
The law is aimed primarily at retail establishments and restaurants that have historically put employees on call. But it may not be restricted to these enterprises. For example, it clearly applies to franchisees in these industries who are small business owners.
Seattle's predictive scheduling law took effect on July 1, 2017. It applies to retail and food establishments with an aggregate of 500+ employees worldwide and full-service restaurants with 500+ employees and 40+ full-service restaurant locations worldwide.
The definition of food establishments is very broad; it includes caterers, food trucks, and more. This means that the 600 or so small franchisees in Seattle in the food service industry must comply with predictive scheduling rules.
To bring the impact of predictive scheduling into focus, consider a Subway franchisee who just had a worker call in sick. If the owner wants to bring in a replacement worker (whether this worker is full-time or part-time), it will cost the owner more to do so.
States and municipalities
The move to predictive scheduling started in San Francisco several years ago; the law went into effect in 2016. Here are some of the municipalities that have predictive scheduling:
New York City (starting November 26, 2017)
San Francisco (starting March 1, 2016)
Seattle (starting July 1, 2017)
Such laws were introduced in 13 states and the District of Columbia in 2016.
Predictive scheduling laws are also under consideration this year in California, Oregon, and the District of Columbia. The laws under consideration may go farther than the Seattle law described earlier. For example, Oregon's proposal would apply to all employers, although the onerous aspects of the law would only apply to those with more than 100 employees in retail, hospitality, and food services. Special rules for small employers would include scheduling requests by employees.
While predictive scheduling is spreading, there is pushback. Some states have moved to protect employers by barring municipalities from enacting predictive scheduling laws. These states thus far include:
Arkansas
Georgia
Iowa
Michigan
Tennessee
Looking ahead
If the concept of predictive scheduling catches on, more locations could impose requirements on an ever-broadening basis (i.e., not restricted to large food establishments). Monitor pending legislation in your area so you can update your business policies and remain compliant with employment laws.
Tools to help employers
Whether or not your business is subject to predictive scheduling laws, it is advisable to schedule worker shifts and track carefully workers' hours using apps that work on smartphones, tablets, and computers. Many of these apps also facilitate scheduling. TSheets is the leader in time tracking. Capterra has a list of apps.