"Reading is everything. Reading makes me feel like I've accomplished something, learned something, become a better person. Reading makes me smarter."  Nora Ephron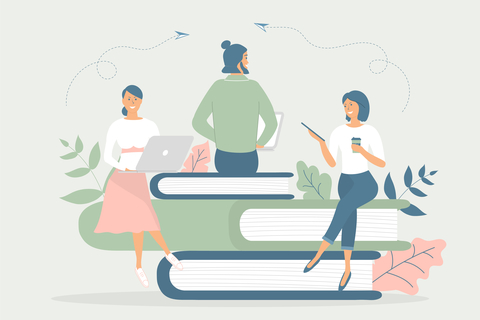 Did you know that reading correlates with success? Tom Corley (Rich Habits: The Daily Success Habits of Wealthy Individuals) says that 85% of successful people read two or more self-improvement or educational books each month.  Whether summertime gives you some extra time for reading or you're busy but don't want to miss good reads for your business, here are some ideas.
My favorites this summer
One book to consider is Grit: The Power of Passion and Perseverance by Angela Duckworth. It shows that you don't have to be the smartest, strongest, or most creative to succeed; all you need is grit. The book shows how grit can be learned, regardless of I.Q. or circumstances.
A novel that I think is a good business book is The Last Days of Night by Graham Moore. It came out a few years ago and describes the contest between industrialists Thomas Edison and George Westinghouse on which type of electric power would run the world. Just a good read about these and other titans of the era, including Alexander Graham Bell and Stanford White.
My last suggestion is a new book: The Pioneers: The Heroic Story of the Settlers Who Brought the American Ideal West by David McCullough. As the New York Times book review says, "If every generation of Americans gets the visionary colonizer it deserves, we get Elon Musk, but people in the early republic got the Rev. Manasseh Cutler." He set out to colonize the Ohio Territory. And what he and those who joined him went through is inspirational. Being an entrepreneur is being a visionary and having the will to pursue the dream. As a McCullough fan, if this one doesn't do it for you, consider The Wright Brothers. Their patent saga will wow you.
Summer reading lists
My list is short; you may be hungry for more. Here are some good lists to check out for business books this summer:
Final thought
Don't overlook Hack The Entrepreneur's 101 Best Business Books of All Time (2019). This list includes some very old favorites, including such must-reads as Dale Carnegie's How to Win Friends & Influence People, Malcolm Gladwell's Outliers: The Story of Success, Michael Gerber's The E Myth Revisited (2004), Napolean Hill's Think & Grow Rich. And if you are still thirsting for more, consider my book Smooth Failing.