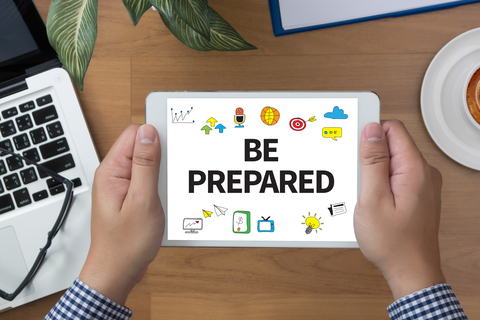 With the 2016 hurricane season under way until November 1, now's a good time for you to review how ready your business is to face a storm or other disaster. It's been reported that 40% of small businesses suffering hurricane damage fail to reopen. Even if you're not in an area typically impacted by hurricanes, there are other disasters that can befall you.
I've had some serious hurricane experience. I was at my mom's house in 1992 during Hurricane Andrew. I experienced Hurricane Sandy up close and personal. I was without power for 11 days, and I broke my foot the day after the storm when I went out to see the damage. Hurricanes are no fun, but they — and other disasters — happen.
Don't become a statistic; be ready!
Get Ready, America! has compiled a 3-step business checklist to help you protect your business. Its steps include: protect property, protect important documents and information, and keep a preparedness checklist. Much of what's on the checklist is common sense, but it's doing it that counts. For example, the checklist suggests keeping your important paper documents (in waterproof containers); I use ziplock bags for certain papers. It's even better to scan documents and back up your computer files so you'll have access to them at anytime from anywhere.
The checklist also suggests that you retain key emergency contact information, including:
Small Business Administration (SBA): 800-359-2227
FEMA: 800-621-3362
Your insurance company and agent's contact information
Speaking of insurance, now's a good time to review your coverage, even if it's not renewal time. Here are some areas to revisit:
The extent of coverage for property damage. Since you last obtained coverage, you may have acquired new, expensive, equipment, machinery, or other property. Be sure this and other needs are adequately insured.
Business continuation coverage. Your basic business owner's policy (BOP) may not provide coverage for costs you incur following a storm and before you can get back to business. The coverage may pay for rent in an alternate location during the period of repairs. Depending on the policy, you may even be covered for lost profits.
Flood insurance. FEMA reports that between 2005 and 2010, the average commercial flood claim was over $85,000. If you're located in a flood zone, you must have this coverage; your BOP won't cover flood damage. If you're not in a flood zone, you may still want the coverage. It's inexpensive, and the recent flooding in Texas is a lesson that water knows no bounds.
Here's a list of preparedness checklists and other resources to peruse so you can create a plan that's suited to your needs:
Be safe, and be prepared!