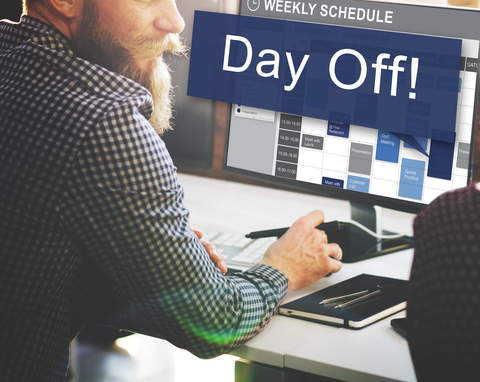 Most retailers are closed on Christmas, which happens to be a federal holiday. In fact, there are 9 federal holidays. As an employer, you are not required under federal law to give employees any paid holidays. But as a practical matter, you may want to review your holiday schedule and policy for 2019. This is especially so in a tight job market where your employees may leave to find companies with more generous paid time off.
Federal holidays
The following are federal holidays during which federal offices are closed:
Tuesday, January 1: New Year's Day
Monday, January 21: Birthday of Martin Luther King, Jr.
Monday, February 18: Washington's Birthday/Presidents Day
Monday, May 27: Memorial Day
Thursday, July 4: Independence Day
Monday, September 2: Labor Day
Monday, November 11: Veterans Day
Thursday, November 28: Thanksgiving Day
Wednesday, December 25: Christmas Day
Your holiday schedule
According to the old Bureau of Labor Statistics, full-time employees in the U.S. had an average of 7.6 paid holidays. But there are some studies showing that the average number now is closer to 9 paid holidays (mirroring the number of federal holidays). Some employers today offer even more generous paid vacation days.
You may want to look at the calendar and determine now your paid holiday schedule for 2019. For example, with July 4th falling on a Thursday, you may want to close (and pay employees) for Friday July 5 so they can have a long weekend. Google, for example, gives 2-day holidays on New Years, Independence Day, Thanksgiving, and Christmas.
Alternatively, if you want to remain open say on the day after Thanksgiving with a reduced staff, you can offer employees a choice: take that day off or another day (e.g., their birthday).
Bottom line
As Ovid said: "Take rest; a field that has rested gives a bountiful crop." Let employees have their rest—with pay—and it will benefit the business.