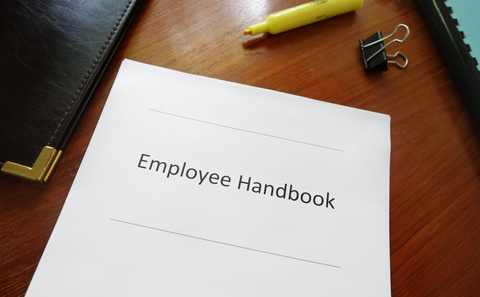 Size doesn't matter when it comes to having an employee handbook. You don't have to be a big corporation to have one. Having any number of employees is reason enough to have an employee handbook. If you don't have one, it's probably a good idea to create one. If you already have one, it's advisable to update it now to reflect various changes in the workplace.
Why have an employee handbook
You may be required to have an employee handbook as a condition of your insurance coverage. But if you aren't required to have one, you should. Paycor lists 8 reasons why you should have a handbook.
The following is my paraphrasing of Paycor's list:
Explain your company culture, mission, and values to employees.
Tell employees what you expect from them.
Educate employees about what they can expect from you (e.g., paid leave and other entitlements).
State the company's policies about conduct, behavior, compensation, etc., and include consequences for employees who violate a policy.
Showcase employee benefits.
Ensure compliance with federal and state laws (e.g., treatment of employees called to active military service).
Help defend against employee claims; having the handbook helps to demonstrate that you exercised reasonable care toward employees in case of a lawsuit by a current or former employee.
Let employees know where they can get help for certain matters (e.g., to whom should workplace violations be reported).
Creating an employee handbook
If you don't yet have an employee handbook, the SBA has a list of what you should include in yours. You can include a nondisclosure agreement as part of your employee handbook. This agreement aims to prevent employees from sharing your company's trade secrets (e.g., customer lists, pricing).
You can use a model employee handbook from NFIB. Tailor this handbook to meet any specific needs you may have (e.g., special rules applicable to your workplace).
When drafting the handbook, refer to the Department of Labor's Employment Law Guide. This guide addresses wage and hours worked; safety and health standards; health benefits, retirement standards, and workers' compensation; and other workplace standards. It also has sections applicable to federal contractors.
Revising an employee handbook
Federal and state employment laws are continually changing, and your handbook should reflect current rules. Examples of new rules that should be reflected in your handbook:
Policy on nondiscrimination on the basis of sexual orientation or gender identification
Changes in retirement plans or other employee benefits
Changes in technology triggering changes in company policy (e.g., policy about email at the company's address; use of company-provided smartphones; social media postings on Facebook, etc.)
Note:  Be sure to watch for the final rule from the DOL on the level of pay needed for a so-called white collar worker to be exempt from overtime rule. The proposed rule issued last July would raise the current level of $455 a week ($23,660 for a full-year worker), which was set in 2004, to the 40th percentile of earnings for full-time salaried workers ($921 per week, or $47,892 annually for a full-year worker, in 2013). The new rule is expected to be adopted shortly; on March 15 it was sent to the Office of Management and Budget for review, which is the final step before it's official. The OMB review could take weeks or months, and the rule will then be effective 60 days after publication in the Federal Register.
Final thought
If you DIY, be sure to have an employment law attorney review your employee handbook. Once you have the handbook in shape, make it available to employees. Be sure they read it by having them sign a statement that they have done so. This provides you with added legal protection from an employee who claims he didn't know where to report sexual harassment or a workplace injury.