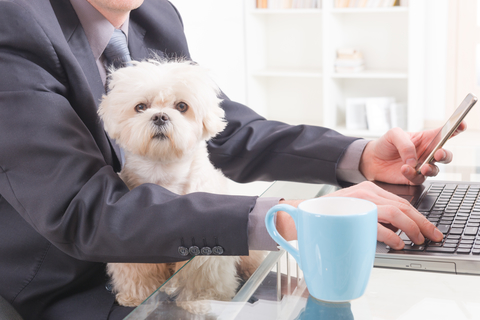 Americans love their pets.  It's been reported that there are about 89.7 million pet dogs and 94.2 million pet cats in the U.S., and that more than 6 in 10 (63.2%) consider their pets to be family members.
June 23 is Take Your Dog to Work Day.   Should you allow pets on your premises? How should you craft your business policies on pets brought into your company by customers and employees?
Customers and employees
Many small businesses are already pet-friendly. According to a Manta survey released on May 22, 2017:
36% of small businesses allow customers to bring pets onto the premises; 82% allow in emotional support animals. Only 10% of companies had complaints about having pets in a store or other business premises.
29% of small businesses allow employees to bring their pets to work. Of these, 41% believe that having a pet in the workplace is helpful; 11% think it's distracting.
Your policies
You usually can't restrict service animals, such as a seeing eye dog (check your state's laws here). But whether you permit pets on your premises or have restrictions on pets, for the most part, it's up to you, subject to certain federal and state laws.
Here are some factors to consider in drafting your company's policy on customers' and employees' pets.
Laws on pets. There is no federal prohibition on having pets in the workplace. It may be a violation of the American with Disabilities Act to bar animals for employees that need to use them even though they aren't technically "service animals." For example, California law says that a dog providing emotional support (an "assistive animal") is a reasonable accommodation; this law applies to companies with 5 or more employees.
Rent terms. If you rent your business premises, be sure that the terms of the lease permit pets on the premises.
Liability exposure. Who is responsible if a dog bites someone on your premises…you or the dog's owner? A business may be held liable, so make sure the business owner's policy (BOP) covers this risk. Also consider requiring an employee to carry his/her own liability insurance and, by agreement as a condition to bringing the pet, indemnify the company's responsibilities.
Property damage. The same concerns should be considered for damage to your premises caused by pets.
Feelings and concerns of others. Some employees may have allergies to or fears of animals. Determine whether these issues can be adequately addressed before permitting pets in the workplace.
Conclusion
Decide whether you want to invite pets of customers and/or employees into your business, and what your policies about this will be.
Will you limit access to pets of a certain size or the number per employee?
Will you extend your policy to all types of pets? (4.7 million households have reptiles as pets.)
When in doubt about whether your policies are within the law, talk with an employment law attorney.