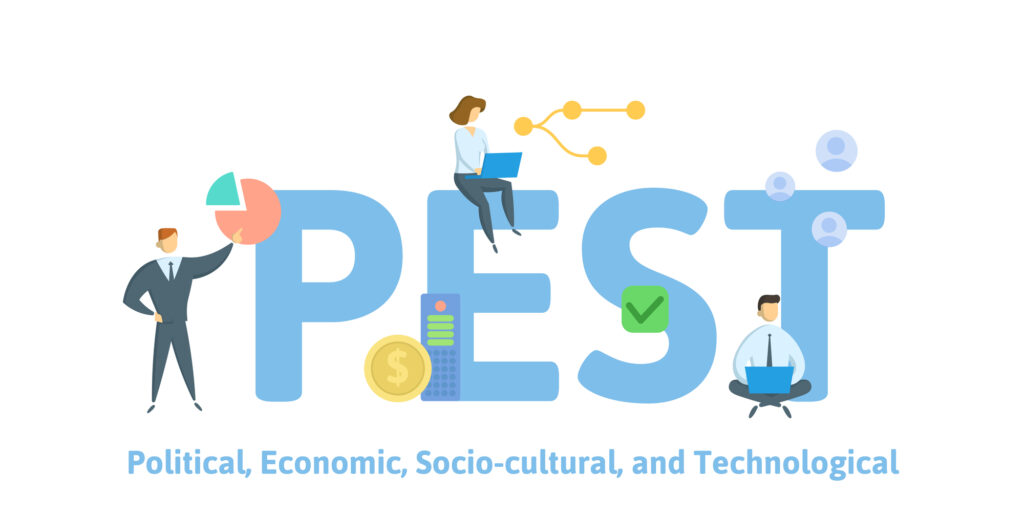 What is PEST analysis? It's not an examination of whether there are ants or rodents on your premises. PEST stands for Political, Economic, Socio-cultural, and Technological factors, and each of these factors can impact your business going forward. (One university adds 2 more factors, environmental and legal, making it PESTEL, but I'm wrapping their factors into PEST.) Small business owners need to be making projections in order to run their companies efficiently and avoid serious pitfalls that could occur. Understand the 4 factors and what's going on now, so that you can plan ahead.
Political factors
What's happening politically on the federal, state, and local levels directly impacts your business. Which party is in control affects the laws and regulations that govern your operations. This directly impacts:
Employment-related policies (e.g., whether paid leave will be enacted in more states and perhaps on the federal level)
Taxes imposed on your business, and on your customers (impacting their ability to pay)
Trade restrictions or opportunities
Review the tax changes from SECURE Act 2.0  to take effect after 2023 to see how they will impact your business. This should be part of your PEST analysis.
Economic factors
Inflation, interest rates, unemployment and supply chain issues are the big economic factors affecting the marketplace today. But where will things stand 6 months, or 12 months, from now? Economic factors can push the economy in a positive or negative direction. For example, will "disinflation" as Fed Chairman Powell calls drive the inflation rate down to historic norms—2% to 3%? A change in the inflation rate will impact interest rates, which obviously affect your cost of borrowing as well as your customers' ability to carry their debt. Use economic factors to decide whether you'll be buying new equipment, expanding into new locations, etc.
Socio-cultural factors
Factors from the Census Bureau—population size and demographics—are one aspect of socio-cultural factors. This are just the "numbers." The other aspect is more difficult to quantify but just as important an influence on business. It includes consumer attitudes. Both add up to who your customers are and what they are looking for. A great example of the impact of socio-cultural factors is the concern about climate change, which has spurred the industry of electric vehicles. Customers today say they want to know about sustainable products and packaging.
Technological factors
Computers and smartphones are old technology that continue to play a part of your business. But today, the technology talk is all about AI and the metaverse. How will robotics affect your business? Will you use virtual reality to enhance the customer experience?
Planning for the future
"Success is not a random act. It arises out of a predictable and power set of circumstances and opportunities."  ~ Author Malcolm Gladwell
Planning ahead should include a focus on all aspects of your business—finances, marketing, inventory, staffing, and more. For example, Motley Fool has information to help you do financial projections. If you feel overwhelmed by this task, meet with your CPA and other business advisers to get input and advice.