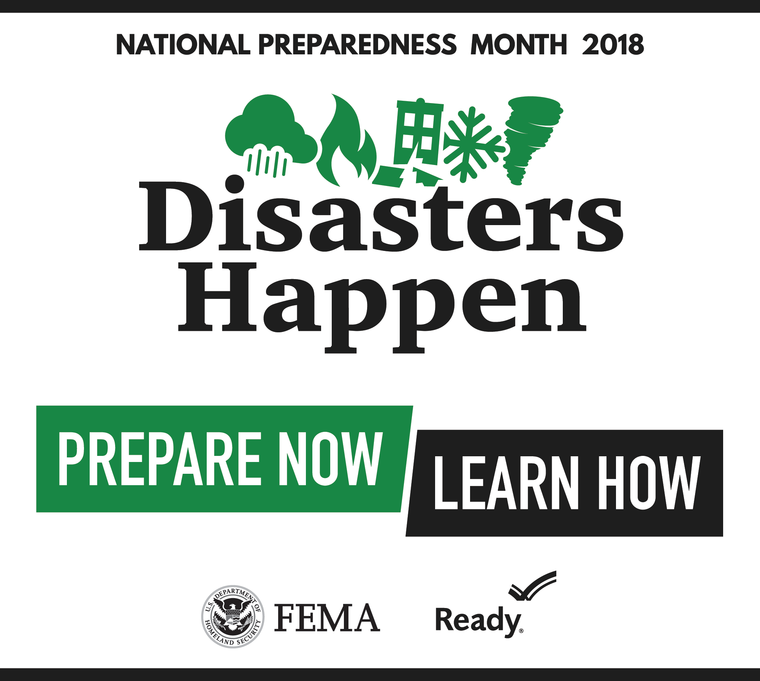 It's been 17 years since terrorists drove planes into the Twin Towers and the Pentagon. The devastation to the lives of families of those who died, and the destruction of property was catastrophic. Since that terrible day, there have been smaller terrorist incidents, and the threat of a massive one has never been erased. For small business owners, the possibility of a terrorist attack of any size cannot be ignored.
Do you have catastrophe plans?
September is National Preparedness Month. This is a reminder that disasters — due to nature or human action — can happen to you. Ready.gov suggests that you:
Make a plan and practice it. Free disaster planning for your business is available from The Hartford (see the Small Business Toolkit), FEMA, and SCORE.
Learn lifesaving skills. Your local police or public safety office may provide free training on your premises to as many of your employees that choose to participate.
Check your insurance (discussed next).
Save for an emergency. Insurance may not be enough to get you through (also discussed next).
Are you covered by insurance?
Do you assume that your current business policy protects you against losses from terrorist attacks? You better check with your insurance agent or carrier. Before 9/11, most business policies included such coverage at no additional charge. Post 9/11, if you want such protection you must separately obtain and pay for it. Insurance losses resulting from terrorism are reinsured by the federal government under the Terrorism Risk and Insurance Act (TRIA).  Proceeds for commercial losses from terrorism are paid only if it's a terrorist act that's certified by the Treasury.
But even if you have coverage, certain acts may not be covered (they may be excluded from terrorist coverage):
Acts of war
Nuclear, biological, chemical, and radiological events
So terrorism insurance may protect you from property loss resulting from a certified terrorist act. But you may also want to consider business interruption coverage to pay your ongoing expenses during the period that a terrorist attack or other catastrophe shuts you down. Typically, you have to wait a set time (e.g., a few days, weeks, or even months as specified in the policy) before insurance kicks in. That's why having savings on hand is important to see you through this period not covered by insurance.
If your employees are injured or killed on the job as a result of a terrorist act, workers compensation will provide payment to them or their families. Terrorist acts, including acts of war, cannot be excluded from coverage.
Bottom line
Take the time now to review your disaster plans and insurance coverage so you can be prepared.
"By failing to prepare, you are preparing to fail."  ~ Benjamin Franklin