Spring is a time for renewal in nature, and a great time to refurbish your office. There are several compelling reasons for doing an office makeover. You can modernize your space for greater efficiency. You can fix problems, such as a poor floor plan or bad lighting, that you've been living with for a while. You can impress clients and customers with the latest look. And you can just feel better and recharged about your work environment.
Planning for a makeover
How ambitious will your project be? It all depends on the following factors:
Your needs. If it's been a long time since you last painted the walls and bought a new desk chair, you may have more to do than just adding some new pictures or upgrading your storage space.
Your budget. A makeover can be done on any budget. Obviously the more you have to spend, the more extensive the project can be. If you have the money, you may want to work with a designer, lighting expert, or others to achieve your design goals. If it is a DIY project, you can get plenty of help from home improvement stores for paints, lights, and flooring, and from Staples, especially the Staples Brand Products line, to outfit the space with quality products for less.
The amount of disruption. Some projects take a lot of time and can impede your normal work activities while repairs are being made. Others can be done quickly — in a day or two or over a weekend — without any serious disruption.
Work out your needs, your budget, and other considerations to plan your makeover.
Hidden benefits
While having a revamped workspace can make you feel good, there are some additional benefits to keep in mind. These added benefits may influence the extent of your project.
Cutting energy costs. According to the Department of Energy, lighting represents the biggest component of electricity consumption in the U.S., and likely a large part of your monthly utility bill. Switching to more energy-efficient lighting solutions will save you money in the long run.
Increasing safety. Ripped carpets, lamp cords across walkways, and poor lighting can lead to accidents by employees or customers. Aside from the obvious costs that accidents entail, there are the intangibles that can cost you even more. Find safety tips from OSHA on walking/working spaces.
Tax savings. You'll likely be able to write off what you spend on a makeover. An immediate deduction can be taken for the cost of ordinary repairs. When it comes to the cost of flooring and fixtures, deductions may have to be spread over time. Find details about deducting these business expenses from the IRS.
Decking out your new space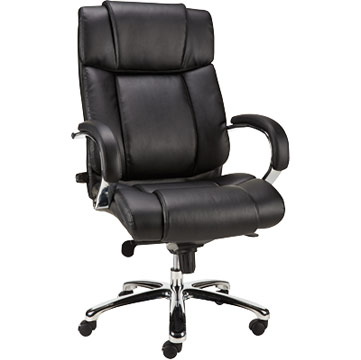 Once you've completed the big jobs, it's time to focus on getting the tools you need to work most efficiently in your newly refurbished space. Perhaps one of the most important items is a good desk chair. OSHA says: "A chair that is well-designed and appropriately adjusted is an essential element of a safe and productive … workstation." Whatever your budget, you can find a Staples® Brand Products chair to suit your needs. For example, the Staples® Sonada Bonded Leather Managers Chair can meet your comfort needs in style.
You'll want to keep your space neat by using appropriate storage items. Staples® Medium Plastic Storage Drawer Cart can be used to stash office supplies, such as multipurpose paper and pens (e.g., Staples® OptiFlow Rollerball Pens) and other items for easy accessibility.
Final thought
Tolstoy said "Spring is the time of plans and projects." Focus now on your office renewal so you can enjoy your new workspace soon.
This post was created in partnership with Staples. All opinions expressed in the post are my own and not those of Staples.