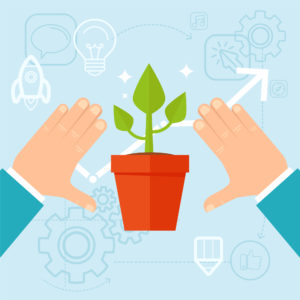 A quotation from Benjamin Franklin that's taped to my monitor says, "an investment in knowledge pays the best interest."
Business owners who continue to learn will surely see increased success. The challenge, of course, is finding the time to learn as well as being selective with the information in which you invest your time and energy. Here are some ideas to help.
1. Read, read, read
An often-quoted statistic is that most CEOs read 4 to 5 books a month, which is 50 to 60 books a year (you can verify this stat on google but I couldn't find an original source for it). The books don't necessarily have to be about business; they can be about any topic that offers you lessons, inspiration, or relaxation.
Here are some lists of business-related must-reads for 2021:
You might also find helpful my ebook 500+ Big Ideas for Your Small Business.
2. Listen to podcasts and webinars
There is an ever-growing wealth of information that can be tapped just by listening. Much of this is free.
Listening can be very time-efficient; listen while driving in your car, while doing your daily walks or other exercise, or other multitasking (such as while straightening your desk; cooking; housecleaning). As with books, what you listen to may be related to business (e.g., taking continuing education courses) or just for stimulating your brain. For example, the Hidden Brain podcast "explores unconscious patterns that drive human behavior and questions that lie at the heart of our complex and changing world."
3. Work with a business coach
Personal growth can be accelerated with the help of experts. This may be a business coach or perhaps a mentor. Working with a business coach requires a time and financial commitment, but if you find the right person, you can reap serious rewards.
Typically, coaching is a limited relationship. For long-term guidance, having a mentor may be a good option. If you're interested in finding a mentor, you have many options:
One-sided mentoring. The mentor does not know you exist but may still be very helpful. You merely absorb the lessons from successful entrepreneurs by reading, listening, and viewing content from blogs, Youtube clips, and TED talks. Most of the content for this type of mentoring is free.
Informal mentoring from colleagues. Who knows your industry better than someone who is also in it? I've found that small business owners are very generous with their time and advice for younger entrepreneurs. It takes initiative to reach out to the person who can provide invaluable information and guidance, but it's worth the effort. Make connections through your chamber of commerce, networking events, and word-of-mouth.
Structured mentoring. There are many organizations and companies offering mentoring for entrepreneurs.

Here are some:
---> SCORE is the largest network of volunteer business mentors which is free. It connects you to mentors, regardless of the stage of business that you're at. You can interact with a mentor in person or online if you aren't near a SCORE office.
---> Entrepreneurs' Organization offers mentoring for its members (owners, founders, and majority stakeholders of a business earning at least $1 million). Membership here is expensive.
---> Colleges and universities. Check out what's available to you locally.
4. Engage with other business owners
Networking is a reliable method for building relationships. And relationships can lead to personal growth. Of course, the pandemic has prevented in-person meetings in most cases. Still, online opportunities for networking continue…and hopefully we'll be able to return to in-person meetings in the near future.
5. Think
Reflection is an essential component of self-growth. What have you learned? How can it be useful to your business? These and other questions can only be answered if you take the time to think about them.
Steve Jobs was a big proponent of mindfulness, a mental state achieved by focusing awareness on the present. It's designed to relax the mind in order to promote creative thought. TimeQube offers some mindfulness exercises if you want to try it.
Final thought
When Michelangelo died at the age of 88, his last words were "I'm still learning." That says it all!