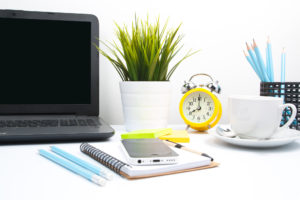 As the lyrics to Fly Like an Eagle by the Steve Miller Band say: "Time keeps on slippin', slippin', slippin' into the future."
For those working remotely from their homes, it's all too easy to become distracted or waste time needed for work. I've been working from a home office for more than 30 years and have developed some personal techniques for time management.
Here are 10 ideas to help you with time management while working remotely:
1. Check your calendar at the start of the day.
There may be special meetings or events scheduled. Take a deep breath and begin your day knowing what's been planned. As new things come up, note them on the calendar.
2. Use single tasking.
Instead of multi-tasking (handling a household chore while trying to work), put full attention into one task. Complete it (or at least a set phase of it) before moving on.
3. Make a list of must-do items.
If there are deadlines, be sure to note them. As my mentor told me many times, "do the best you can in the time you have."
4. Prioritize activities.
There are different theories on how to do this. Some suggest putting the most important items up front and begin to tackle them. Others say to handle the little activities first so you can concentrate on important matters.
5. Schedule time for checking email.
Those who spend hours of work with their computers or mobile devices should decide how to handle email. Some prefer to limit viewing and responding to communications at a set time (e.g., before starting on other business tasks). Others use emails viewing to break up their work time. Learn what works better for you.
6. Watch the clock.
Whether you use a wall clock, the clock on your computer or mobile device, or a wristwatch, check where you're at. Compare the actual time to what you have done and what you need to do before the end of the day.
7. Delegate activities.
You may not be able to do everything yourself. Call upon others to help where needed. For example, those with young children at home need to arrange for their supervision. If there are two working parents, it's likely one must take charge to enable the other to work. If there is an older child, he or she needs to lend a hand in watching a younger sibling so parents can work, noting of course the school hours of each child.
8. Communicate with employees.
Consider having daily, weekly, or sporadic meetings using Zoom or other remote options to help employees stay on task. One of the key problems for employees is understanding what's expected of them and whether they're doing it. Even without regular meetings, good communication can help employees with their time management.
9. Use software time management tools.
Businesses that want to track employee work hours can use software for this purpose. The Blueprint has a list of the top time clock software for small businesses in 2020. Self-employed individuals can find the best time tracking software for freelancers and the self-employed for 2020 from Fit Small Business.
10. Plan ahead.
As the day draws to a close, assess what's been accomplished and what remains to be done tomorrow. As Scarlett said in Gone With the Wind, "Tomorrow is another day."