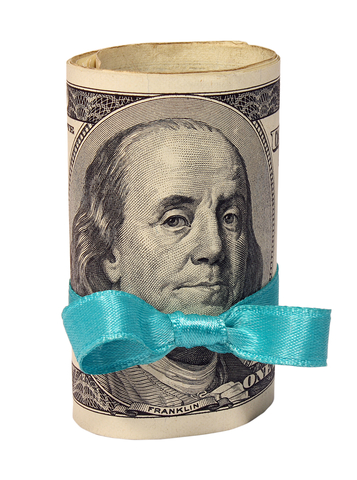 If your business nets $50,000 and you qualify for the new 20% business income deduction for owners of pass-through entities, you'll save $10,000 in federal income taxes. Should you opt to plough this back into your business, here are 10 smart things you can do to improve your business, solidify your workforce, and do good for your community. And all of these suggestions are tax deductible, so you'll be reaping additional tax savings.
1. Give "spot bonuses"
These are payments you make now, rather than at the end of the year or on an employee's work anniversary. Spot bonuses may follow the completion of a big project, your competitors are giving bonuses, or just because….
Almost half (48%) of employees are giving spot bonuses. You can view of list of sizable companies in the U.S. that have done so following the Tax Cuts and Jobs Act.
But as a small business you can do the same. A $1,000 bonus to your 10 employees ($10,000) would be a good thing. (Remember there's added cost to bonuses in the form of employment taxes, but there's a write-off for the bonuses and taxes.)
2. Splurge on new equipment
A fast-growing employee benefit is the standing desk, which some research shows can help employees' health. According to Benefits New, companies offering this perk increased from 20% in 2014 to 53% in 2018. The cost of a Varidesk starts at under $200 and ranges up to nearly $1,000. So if you want to get this for your 15 employees, a mid-priced model (say about $665), you'll spend the $10,000.
3. Engage a social media specialist
Put your money into payments to a person who can help you with your social media. Such a person can help create content, monitor posts, and respond to comments. According to Indeed, the national average hourly payment in the U.S. for a social media specialist employee is $13.84 per hour; expect to pay more for an independent social media concierge. But $10,000 will give you considerable help in this area.
4. Add insurance
You may have been reluctant to take on certain types of insurance coverage because of cost. With some extra bucks in your pocket, consider such protection as:
Business interruption insurance
Cyber liability coverage
Employment practices liability insurance (for claims of wrongful termination, discrimination, etc.) and employers liability insurance (for employees' injuries not covered by workers' compensation)
It's difficult to give a good estimate of how much the added coverage would cost. For example, in the case of cyber liability coverage, premiums depend on your type of business, annual revenue, and the limit of liability coverage you choose. As best I can determine, the annual cost of such a policy could range from under $1,000 to more than $8,000. If you look to also add another type of coverage, you'll easily reach $10,000 in premiums.
5. Make a matching contribution to employees' retirement accounts
If you already have a 401(k) set up but aren't contributing to employees' accounts, consider using the $10,000 for this purpose. Depending on the type of 401(k) plan you have, you may be able to simply allocate the money to employee accounts rather than match a percentage of their compensation. Or, depending on the number of employees, you could consider doing a matching formula (e.g., 50% of employee contributions up to 6% of compensation, which works out to 3% of their compensation).
Before you take any action, be sure to discuss your intentions with a benefits expert so that you comply with notice requirements, nondiscrimination rules, and other particulars for qualified retirement plans.
6. Get an app
If you don't yet have an app for your business, now may be the time to do so. According to one source, there were 197 billion app downloads in 2017, and that number is expected to grow even more. You can't rely solely on your website today as customers spend more time on their mobile devices
The cost of creating an app for iSO and Android devices varies considerably with what you want your app to do. If you're only providing information about your products and services, that's one thing. If you're going to be offering discounts and promotions, or actually selling through the app, that's another thing. It may be possible to bring in your app development in the $10,000 price range; it all depends on what you want your app to do. Here's a link to my app, which came in under this price point.
7. Support a local charity
Your support can be in the form of a cash donation, paying for an ad in a charity event journal, or giving employees paid time off to volunteer in your area. Besides helping the charity, you're helping your business garner favorable goodwill in your area.
So of the $10,000, consider writing a check, or doing a variety of things to support local charities.
8. Help out another business
Consider applying your $10,000 to peer-to-peer business lending that can benefit another business and you. You may be able to earn 5% interest or more from this activity. Examples of platforms to explore for this purpose:
9. Create a rainy day fund
Save your windfall for the future when you may need it. Some unexpected event may cost you money that you'll then have on hand to spend. For example, if you lose a key employee, you'll likely lose some business until you find a replacement and then you'll need to bring the replacement up to speed. One study several years ago found that it costs about 20% of annual salary to replace a mid-range position ($30,000 to $50,000). So the cost of replacing a $50K employee would eat up your rainy day fund.
10. Take a vacation
Spend some of your hard-earned money on yourself by getting away from your business for a while. Doing so can help you recharge your batteries so to speak and help you refocus yourself on growing your business.
If you choose to spend the full amount, you can take a nice 2-week vacation for 2 just about anywhere. For example, a 13-day Mediterranean cruise with Viking would fit the bill.
Final thought
You don't have to spend all of your tax savings on one thing; you can spread it around. And talk with your tax advisor to see how these actions can help you obtain additional tax savings.