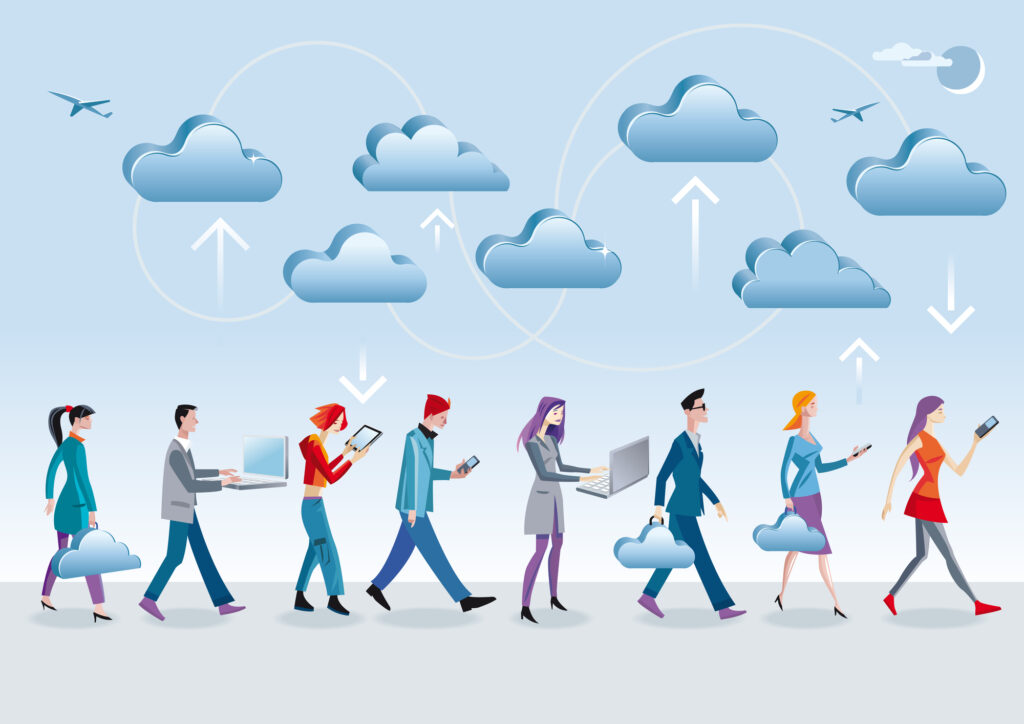 Many organizations have begun to recognize the long-term value of cloud computing, including increased security and cost savings. It's a move that's very much become a go-to solution for companies, but many are still reluctant and would prefer to keep their IT estate onsite. Many have invested heavily in legacy IT infrastructure, with migrations and exports presenting risks, complications, glitches, and a knock-on effect on productivity, in the eyes of many IT experts.
Migrating a business to the cloud sounds like an arduous task – and in some cases, it can be – but the long-term payoffs can be immense, with increasing numbers of businesses finding a cloud move to be worthwhile. It's estimated that 60% of global corporate data is stored in the cloud, with 90% of large enterprises adopting a multi-cloud infrastructure (a hybrid of both public and private cloud estates).
How Can I Be Sure a Cloud Platform Will Work?
There is no one-size-fits-all cloud computing solution that businesses can adopt – most providers will scale services to fit the size and needs of each company. Certain cloud partners may only provide specific services, encompassing niches such as website hosting, project management solutions, data storage, consultancy, and everything in between. Some companies may offer a mixture of services, including handling and managing each estate's specific migration over to particular servers like Atlassian.
Deciding whether your business will be suitable for a cloud environment will, of course, be down to you. Ultimately, there is no easy way of guaranteeing a successful, problem-free migration. That said, it is inherently easier if you have established a migration strategy, and accounted for security, vulnerabilities, budget, and the many other potential pitfalls and challenges.
Here are five ways that migrating to the cloud can be a benefit to your business.
1. Flexibility
Cloud computing offers increased flexibility for employees of a business. With a robust cloud-based IT setup, they can log on from any authorized device – desktop, tablet or phone – to work on projects, collaborate with colleagues and generally work in a way that is more suitable and comfortable for them. As a result, the quality of work and productivity will increase. With more full-time staff working remotely or with flexible hours, it's in your company's best interests to facilitate this flexibility.
2. Remote Access
By opting for a cloud-based project management and data storage solution, files and data can be accessed by any authorized person wherever they are. Provided there is an internet connection present, any reputable cloud-based document and file-sharing setup can benefit people while they are on the move. Whether employees are at home, in the office, commuting, at customer/client locations, or traveling abroad, this setup allows them to keep track of ongoing projects' progress, and quickly make suggestions if their input is needed.
3. Fewer Security Risks
Cybersecurity is a growing and evolving problem, with swathes of hacks and cyber-attacks befalling organizations with on-premise IT infrastructure. Cloud environments and storage can close pervasive gaps and reduce the number of potential cybersecurity issues you could face.
With robust cloud computing, file sharing and storage, data backups, and security patching and updates can all be left in the capable hands of enterprise-grade software and automated processes. As a result, companies won't have to fret about losing or misplacing sensitive details or files, while enhancing their data integrity and cyber-attack resilience.
4. Lower Costs
Businesses are rightfully concerned about rising costs in today's inflationary environment. Moving to the cloud can drastically reduce hardware costs, freeing up resources for other business needs. It can also save money on ongoing IT support, with many cloud providers offering it as part of their enterprise packages.
Environmentally-conscious business owners may find that cloud-based data storage might be more eco-friendly and cost-effective in the long run. Onsite server cooling, for instance, can quickly hike a company's energy bill.
5. Additional Space
Every square foot counts, whether in an office or working from home. Dedicated servers require sufficient space and investment. Moving to a cloud environment eliminates the need for this, freeing up areas that would otherwise be used for on-site servers. That space could be put to more productive uses, such as additional desks, and training spaces.
Conclusion
Many IT professionals are looking toward distributed cloud solutions, an increasingly growing trend within the sector, where companies can migrate their data into multiple cloud locations. If you are toying with the idea of moving your business to the cloud, there is no better time than now. Considering the potential long-term benefits your business could reap, such as ‌added security, flexibility, and productivity, it's difficult to see how that's not appealing.