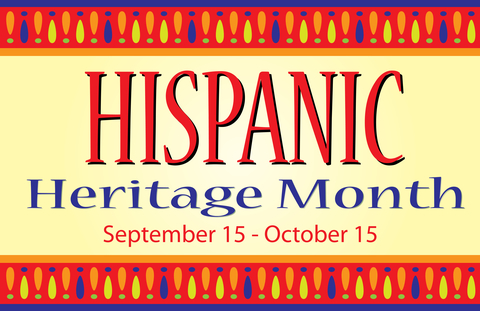 Hispanic Heritage Month runs from September 15 (the anniversary of independence for 5 Latin American countries) to October 15. It recognizes the contributions made and the important presence of Hispanic and Latino Americans to the United States and celebrates their heritage and culture.
From a business perspective, this portion of the population is significant.
5 million people (18%) of the American population is of Hispanic or Latino origin.
8 million Latinos are in the U.S. workforce.
5% of Fortune 500 board seats were held by Latinos and Latinas as of 2016.
Many CEOs are Latinas or Latinos (see next).
Businesses and business leaders
According to the SBA, there are more than 3.3 million small businesses owned by Hispanics in the U.S. These represent 12.2% of all small businesses.
Roberto C. Goizueta (born in Havana, Cuba) became the first Latino to head a Fortune 500 company when he became CEO and chairman of The Coca-Cola Company in August 1980. He served in that capacity until his death in October 1997.
Other famous business people to honor this month are the 50 most powerful Latinas in business according to Fortune. They include Geisha Williams (President and CEO of PG&E), Mary T. Barra (Chairman and CEO of General Motors), Grace Puma (Executive VP Global Operations, PepsiCo), Gisel Ruiz, Executive VP and COO of Sam's Club), and Jessica Alba (Founder of The Honest Company).
In addition to Geisha Williams and Mary T. Barra, the following also head up Fortune 500 companies:
Oscar Munoz (born in California of Mexican-American descent)—CEO and chairman of United Airlines
Pedro Pizarro (born in Puerto Rico)—President and CEO of Edison International
Ramon Laguarta (born in Barcelona, Spain)—CEO of Pepsi as of October 3, 2018
Carlos Rodriguez (born in Cuba)—CEO of Automatic Data Processing (ADP)
Marcelo Claure (La Paz, Bolivia)—Executive Chairman and former CEO of Sprint
Marketing to Hispanics
Earlier this year, Forbes ran an article on 6 facts about the Hispanic market that every business owner should read. For example, statistics show that nearly half (44%) only use online content in English, even if Spanish is spoken at home. But 56% said they were more loyal to companies that advertised in Spanish.
Resources
A good source for information on startups, growth, finance, and more for Latino-owned businesses (as well as non-Latino-owned) is the newsletter Latin Business Today. Also find help and information through the U.S. Hispanic Chamber of Commerce, America's largest Hispanic business organization. There are more than 200 local chambers across the U.S. providing access to capital through grant programs, access to training, and a gateway to more than 260 corporate partners.